I Laugh, I Cry, I Serve
| | |
| --- | --- |
| ISBN: | 0-9739809-3-6 |
| Pages: | 146 |
| Binding: | Softcover |
| Publisher: | Keshet Productions, 2007 |
| Price: | $25.00 CAD |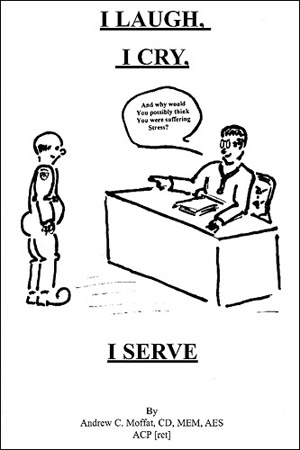 synopsis
Both government and university studies have determined that EMS is man's most stressful occupation.
The studies do not cover the marked difference between urban and rural EMS stress — the latter being so much greater due to isolation from help, primitive surroundings and length of time a patient is in their care.
One other factor adds to the rural practitioner's stress: he is generally working with patients he personally knows. Then, and later, he must also face the patient's family and neighbours. Rural EMS is never impersonal!
This book uses actual rural medical Calls to illustrate the origins of stress, and then attempts to define ways to avoid or treat that stress.
We are all potential patients of EMS and should acquaint ourselves with the pressures under which they work — and our part in helping avert their stress.
excerpt
Both Police and Fire Fighters may be said to function in a semi-solitary arena with functioning lateral partners, whereas EMS is always a fully solitary member of a vertical team: a huge difference!
All three Emergency Services are subject to stress, albeit of a differing nature and degree. I would venture to say that the stress in EMS is the greatest; for the EMS practitioner is dealing with the pain and tragedy of human suffering as well as bearing, in isolation, the life-and-death outcome of the event. This places a very personal responsibility on the Medic. A responsibility that cannot be shared, for the Medic works alone: even though there are two (Medic and Medic-driver) they work independently and often on different patients.
As difficult as it may be for 'outsiders' to comprehend Medics' "Black Humour", they must understand that it is the very thing that plays the greatest role in allowing Medics to avoid succumbing to the dreadful stresses they face every day. Often many times in a single shift!
reviews
I found the book fascinating from a number of perspectives… it addresses the topic from a Canadian perspective, which is rare and always refreshing.
Andrew has personalized the book and added charm and levity, by illustrating the book with his personal illustrations.
An unintended by-product… it provides a first-hand glimpse into the history and development of Canadian EMS by someone who was one of its important founders and proponents.
— L. Blumhagen, Editor Canadian Emergency News
---
I read the entire book in one sitting. I laughed at the roadside CPR (when you witnessed a miracle)… I teared up two or three times at other stories. I liked your theme about stress and the need for counsel… it would have been a joy to work with you.
— Editor, Moffatana Periodical, KY, USA
[Original book stack image © epitavi/Dollar Photo Club; Original feathered inkwell image © Stekloduv/Dollar Photo Club]