The Last Victoria Cross
| | |
| --- | --- |
| ISBN: | 978-1-926813-31-8 |
| Pages: | 276 |
| Binding: | Softcover |
| Publisher: | Keshet Productions, 2015 |
| Price: | $25.00 CAD |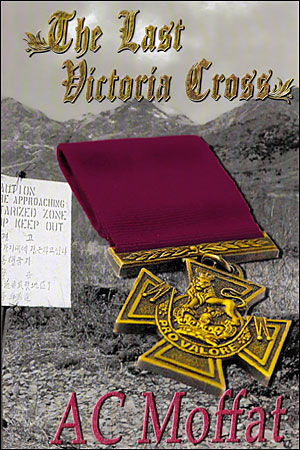 Cover by Wayne Mortensen Enterprises
synopsis
There really was a young Canadian Corporal whose Canadian recommendation for the Victoria Cross was denied by the British!
Although this story is entirely fiction, it does make one wonder why the Canadian
authorities failed to press the British and defy the British decision.
This could so easily have been so different and the impact on Canada as a whole,
and the Canadian Forces in particular, could have been quite remarkable.
One wonders — is fiction based on truth and imagination really "fiction" or just "fact" that was somehow overlooked, mislaid, or ignored?
excerpt
"Sir, in the matter of getting the Victoria Cross reinstated; it seems that Prime Minister Hickford has managed to get enough political approval to push the thing through — he has made a number of enemies, of course, but then most were already in opposition over one thing or another."
"Then what's the problem?"
"Sir, we all anticipated that the opposition would come from the Opposition Party, the
House of Lords, or maybe even from some of the Vet Organizations."
"Even the Crown!"
"As it turns out, it is the Chief of the Imperial General Staff who is the fly in the ointment."
Howard Falls' jaw tightened until he thought his back teeth might shatter.
The damned Army all over again!
reviews
Reviews of this book will be posted here as they are available.
[Original book stack image © epitavi/Dollar Photo Club; Original feathered inkwell image © Stekloduv/Dollar Photo Club]