The Bus Depot
| | |
| --- | --- |
| ISBN: | 978-1-926813-25-7 |
| Pages: | 264 |
| Binding: | Softcover |
| Publisher: | Keshet Productions, 2014 |
| Price: | $25.00 CAD |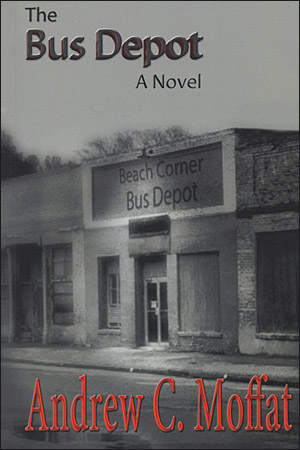 Cover by Wayne Mortensen Enterprises
synopsis
One usually assumes that life in the little back-woods villages of northern Canada to be dull and routine.
Not always so!
This tale exaggerates a situation — but once one lives in such a small village or town, one begins to see and learn what transpires far behind the scenes!
An innocent Maritimer merely wants to get home for the Spring Break when the world about him seems to collapse. Although he attempts to sit it out on the sidelines, he is dragged into the very middle of it all.
A story of how different people in different places with different goals can all come together as though by some mystic destiny.
excerpt
The prisoner sat silently still; his eyes riveted on the Mountie's back. It was as though he was sizing up the situation, waiting for something — anything — that might favour him.
Robert thought of those animal programmes on TV — the ones where the lion or leopard lay in wait, about to pounce on the zebra!
He was sitting quietly, but every muscle in that man's body was tensed — just like that lion ready to spring on its prey.
Robert's mind was telling him that an explosion was about to take place!
That there were five sticks of dynamite all with their fuses lit and burning down; the Mounty, the Agent, the two bikers, and the prisoner.
reviews
Reviews of this book will be posted here as they are available.
[Original book stack image © epitavi/Dollar Photo Club; Original feathered inkwell image © Stekloduv/Dollar Photo Club]