Comrades
| | |
| --- | --- |
| ISBN: | 978-1-926813-23-3 |
| Pages: | 277 |
| Binding: | Softcover |
| Publisher: | Keshet Productions, 2013 |
| Price: | $25.00 CAD |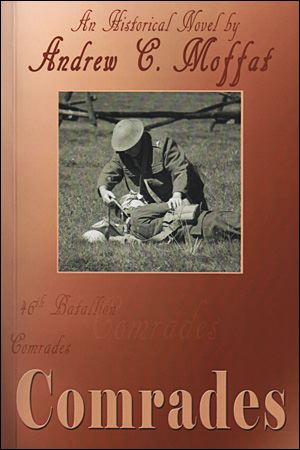 Cover by Wayne Mortensen Enterprises
synopsis
No civilian can ever comprehend the special relationship that develops between soldiers.
It is a bond of loyalty and almost blind protection — even at the expense of one's own convenience, expense, comfort or even life!
It is not 'friendship'; it isn't economic or political in nature; and it most certainly isn't under compulsion of any sort.
It is simply COMRADERY!
We aren't born with it and we don't learn it in school or in the classroom — civil or military — it is just something that comes with the uniform!
It is what makes us what we are!
excerpt
John knew little of what they would face Overseas other than what he had heard second hand or read in the newspapers. What conclusion he had come to was of a miserable and costly future for the Allied Forces, and the need for a CO who would not needlessly waste his men, but would stand strong in seeing to their needs and their valuable employment.
Thirty days! That was all the time John and the CO could count on to bring more than 800 new recruits from civilian life to a trained and coordinated efficiency in operating to Army standards. They could hope for longer, but could not count on it!
Too little time and too much to accomplish! But the will was there — both in those leading and in those following!
Adrenalin was running high; there was a war to be fought and most were afraid that it would be all over before they could be committed to battle.
reviews
Reviews of this book will be posted here as they are available.
[Original book stack image © epitavi/Dollar Photo Club; Original feathered inkwell image © Stekloduv/Dollar Photo Club]