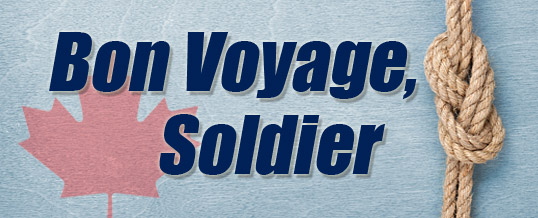 [Original image "Ship rope knot on wooden texture background" © karandaev/Dollar Photo Club]
In 1955 I was the Senior Liaison Officer at HQ 2 Canadian Infantry Brigade stationed in Edmonton. We ran the Summer Concentration in Camp Wainwright prior to our departure for Germany where we would replace 1 CIB as Canada's NATO contribution.
At the end of July the Bde personnel were given 2 weeks "Departure Leave" and we were to assemble in Quebec City from where we would sail to Rotterdam.
Instead of a full Leave I had to go to Shilo to take my Captain's Exams; then to travel to Quebec on my own; I had a telegram giving me the sailing date.
A Classmate of mine from Royal Roads had a brother and mother living in Quebec City, the brother was an Artillery Officer [Dick Smythe] with whom I had trained. I contacted them to say I would be "passing through" and would like to meet them.
The day prior to my sailing date I arrived in Quebec City and settled into a B&B in the Old Town.
The Smythes asked me to join them for a tour of the City and for dinner later.
On the Plains of Abraham I was able to look down on the harbour and my hosts pointed out the ship on which I was to sail; it was tied up at the dock with a tug boat nestled to its side.
What a beautiful ship! A large, white passenger liner.
The following morning I gathered my gear and went to the shed at the dock; it was absolutely empty! No cargo, no baggage, no people!
I went out onto the dock and my ship had sailed; only the tug remained! I could visualize my Court Marshal for having missed my sailing!
Finally I found a chap from Immigration/Customs. I said I had missed my ship and asked if there was a picquet or mail boat going to be in contact with it further up the St Laurence. He assured me it hadn't sailed, for he had not yet given it clearance!
The tug boat was my SS Columbia!
It was a 500 ton Century old craft with a 27 degree permanent list to port. It had hauled copra in the South Pacific from the early to mid 1800's! Then been called to serve as a Hospital Ship in the Boar War, after which it returned to cargo between islands!
By 1939 its insurance had long since run out and it was to be broken up; when WWII was declared. It was again called to service and the British Gov't, through Lloyd's Insurance, gave it coverage until "five years after the End of the War in Europe." We were to be its final sailing, after which it was to be towed to Greece to be broken up for scrap.
It was a 16 day trip across the Atlantic; 14 days of which were in hurricane weather!
My first Ocean trip was probably one of the most unique anyone had ever had!
About the Author Browse My Books