What Goes Around…..
| | |
| --- | --- |
| ISBN: | 978-0-9810197-8-9 |
| Pages: | 194 |
| Binding: | Softcover |
| Publisher: | Keshet Productions, 2009 |
| Price: | $25.00 CAD |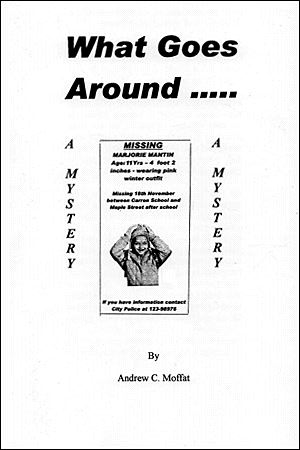 synopsis
Larry Slocum was brought up in a family who firmly believed in helping others. As an only child — adopted — he not only absorbed his parents' teachings, but also developed a sense of indebtedness to follow their example of service to others and to community.
He lost his childhood friend to a child molester. His frustration at seeing the killer evade capture was the incentive to enter a policeman's life — not to catch that particular killer, but to do his part in preventing other such incidents. His and his wife's fascination with DNA was to lead into paths they could not have imagined.
This story — like Larry's life — is filled with those unlikely and unexplainable twists that fill our own lives.
excerpt
Times were changing and rapidly so. Now gangs were forming; drugs were being peddled; assaults were on the increase; and random shootings almost commonplace.
There were ten murders in Larry's first first 18 months on the new job. Every single victim was under 25 years of age, and every single one was known to have some connection — no matter how slight — to drugs
Every single case was a test of their detective skills! And in almost every case they were certain that they knew who the murder was — but either there was insufficient evidence or those who could have testified would not.
reviews
Reviews of this book will be posted here as they are available.
[Original book stack image © epitavi/Dollar Photo Club; Original feathered inkwell image © Stekloduv/Dollar Photo Club]