No Greater Love…
| | |
| --- | --- |
| ISBN: | 978-1-926813-02-8 |
| Pages: | 289 |
| Binding: | Softcover |
| Publisher: | Keshet Productions, 2011 |
| Price: | $25.00 CAD |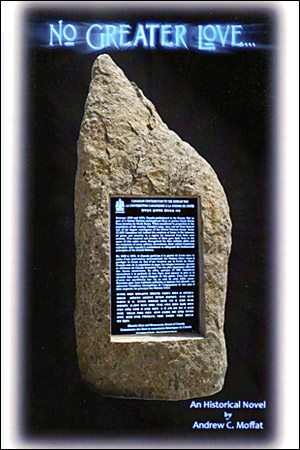 synopsis
There are many unique aspects to service in the military, but none so difficult for a civilian to understand, or a soldier to try to describe, than the bond that is created through the absolute trust of one soldier for another without regard for the length of time or the circumstances under which they have served together.
As an old, experienced Regimental Sergeant Major once said to the author, "You don't have to like your fellow soldier — you just have to trust him with your life!"
And that is something no civilian can ever fully understand.
This is one old Vet's attempt to impart this most difficult message through an historical novel of a soldier going through a war with which the Vet was personally familiar.
Enjoy and, I hope, learn.
excerpt
What an unskilled observer would have thought a completely disorganized melee was really a remarkably controlled affair. Not that anyone knew from one minute to the next what was — or would be happening, each man's coordinated reaction met each challenge in a disciplined manner.
There were moments when it appeared touch-and-go; but again the Unit's demanding training came through and each hole in the defence almost as soon as it was created, was filled.
reviews
Reviews of this book will be posted here as they are available.
[Original book stack image © epitavi/Dollar Photo Club; Original feathered inkwell image © Stekloduv/Dollar Photo Club]