My NATO Years
| | |
| --- | --- |
| ISBN: | 0-9739809-2-9 |
| Pages: | 247 |
| Binding: | Softcover |
| Publisher: | Keshet Productions, 2007 |
| Price: | $25.00 CAD |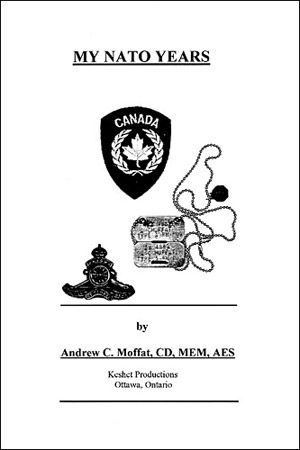 synopsis
These are the author's memories of events and personalities garnered over almost seven years military service with the NATO armies in Europe.
That service took place in stretches of one, two and three years, between 1955 and 1969 — years that covered the most sensitive periods of the Cold War.
The author had an unusual range of experiences, for he served in both the Canadian Brigade Group Headquarters and as an Operations Officer in the Northern Army Group Headquarters. Too, he served in a Field Artillery Regiment as well as Commanding Canada's only operational nuclear unit.
These memories cover the entire range of his experiences and speak directly and indirectly to many of the personalities with whom he served.
It is difficult to read this book without imagining the parallel life lived by the author's wife and family. It is not only the soldiers who serve our Country with dedication and perseverance!
excerpt
[After dinner on the civilian Troop Ship sailing to Europe, the two Canadian officers sat reminiscing their days in England in the early '40's]
"We favoured the 'CAT & Mouse Pub', just down from St. James Church," said Bill.
A voice from nowhere said: "No, that was St. Andrew's Church!"
"Oh, yes," Bill came back.
"I remember that Pub," said Joe. "Been there on several occasions, but our Unit favoured the 'Red Bull Pub' up on the corner of Main and High Streets."
The mysterious voice came again, "You mean Nelson and High Streets."
It was at this point that we all became conscious that the voice came from other than the four of us. It came from the chesterfield behind Bill and Joe, and the only person there was the ship's doctor whom we had seen enter earlier.
"We appreciate your corrections. I suppose you were a POW in the area of the Camp?"
"No, No," was the quick reply. "I was an Me109 pilot and St. Andrew's Church was IP for directions to my targets. I flew at least two sorties a day for almost three years, so I know the town very well!"
My 15-year old image of an Me109 pilot had proven accurate in every detail!
reviews
Reviews of this book will be posted here as they are available.
[Original book stack image © epitavi/Dollar Photo Club; Original feathered inkwell image © Stekloduv/Dollar Photo Club]