Korea Memories
| | |
| --- | --- |
| ISBN: | 0-9739809-0-7 |
| Pages: | 235 |
| Binding: | Hardcover |
| Publisher: | Keshet Productions, 2006 |
| Price: | $35.00 CAD |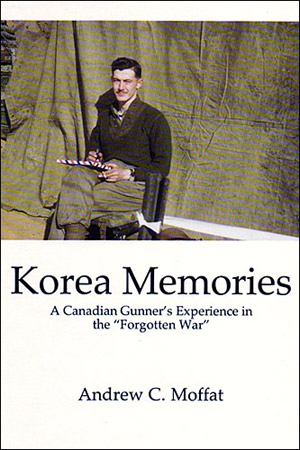 synopsis
A Canadian Gunner's experience in the 'Forgotten War'.
The book starts with the author being informed that he is shortly to be posted to Korea, and ends with an assessment made 50 years later following a revisit to South Korea.
Not a traditional war story, but rather the personal experiences and reminiscences of the author; many of which reinforce the idea that our lives are ruled by 'chance'. Tears, thrills and laughs — the essence of war.
excerpt
There are many levels of friendship and many a basis for forming friendships.
Some ties are found in bloodlines, some in common interests, some in common backgrounds, and yet others in some mystique of physical or emotional attraction.
Some friendships require a constant contact to remain viable; others remain strong in the mere knowledge that the other person 'will be there' if needed.
Some friendships need open expression; others enjoy a sort of ESP existence.
In 'Action' there are ties that stand apart from all others. Even a fleeting moment when two soldiers share a danger when each knows that his life is in the hands of the other, when a unique level of total trust exists… that lasts forever. Even if the two have never formally met, don't know each other's name, and never cross paths again, a friendship that has no parallel comes into existence.
I had two signalers in my OP, Jack Christensen and Paul Gautier. We came from very diverse backgrounds: Jack a Newfy, Paul a Quebecois, and me a Prairie boy. We had never met before Korea and our military paths never crossed after Korea. But when, 40 years later, I sought a disability claim with Veterans' Affairs, both appeared out of the blue with affidavits of supporting evidence.
In 2000 I received a letter from Jack's widow Shirley, to tell me that Jack had died.
After a mere 3 1/2 months together and 47 years of separation I had lost a dear and close friend!
reviews
"This is one man's attempt to share his experiences and to contribute to the understanding of the war. Moffat has made a valuable contribution to our understanding of history. The book is both interesting and full of pertinent information. The style is well suited to the variety of stories he has to tell…
There are lessons to be learned on leadership and the stress of combat. The book is not an academic one, but an overall good read. A combination of intriguing stories and witty commentary… make Korea Memories worthy of a place on the shelves of Panet House."
— S. Parish on behalf of the Royal Military College's History Department
---
"I consider books such as you have authored to be a collections priority in terms of our published heritage, so I hope it provides some satisfaction in knowing that the perspective your valuable book provides will be preserved in the National Collections for prosperity."
— Tom Smyth, Library & Archives, Canada
[Original book stack image © epitavi/Dollar Photo Club; Original feathered inkwell image © Stekloduv/Dollar Photo Club]