Dear Katie… Dearest Angus…
| | |
| --- | --- |
| ISBN: | 978-1-926813-25-7 |
| Pages: | 423 |
| Binding: | Softcover |
| Publisher: | Keshet Productions, 2014 |
| Price: | $25.00 CAD |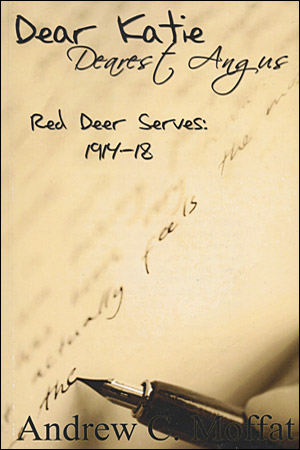 Cover by Wayne Mortensen Enterprises
synopsis
The Great War — "The War to End All Wars" — extended from August 1914 to November 1918.
More than 60,000 young Canadian men were killed and well over 100,000 seriously wounded.
More than tens of thousands had their post-War lives — and those of their families — seriously affected by "Shell Shock" — or what we refer to today as PTSD.
However, it was not only the soldiers who suffered — their families went through four years of stress and constant dread that their men would be killed. Wives who had grown up under the care and keeping of first their own fathers and then their husbands, were left to fend on their own.
There was virtually no Government assistance and no such thing as welfare.
The families were the real heroes!
excerpt
My Dearest Katie:
Oh how I miss the tidy, clean and orderly nest that you had created for me and the children!
You can not begin to imagine our conditions here: I do not exaggerate one little bit when I say that no one at home can imagine how we live and the condition in which we fight!
It seems to be constantly raining — and there is always an icy cold wind blowing in off the North Sea. The combination defeats any form of clothing or protection that we can acquire.
The mud is everywhere! We dig holes into the forward side of our trenches — to protect us from Jerry's shells as well as to get us up above the ankle deep mud on the trench floor…
reviews
Reviews of this book will be posted here as they are available.
[Original book stack image © epitavi/Dollar Photo Club; Original feathered inkwell image © Stekloduv/Dollar Photo Club]