The 20th Hole
| | |
| --- | --- |
| ISBN: | 978-1-926813-01-1 |
| Pages: | 271 |
| Binding: | Softcover |
| Publisher: | Keshet Productions, 2010 |
| Price: | $25.00 CAD |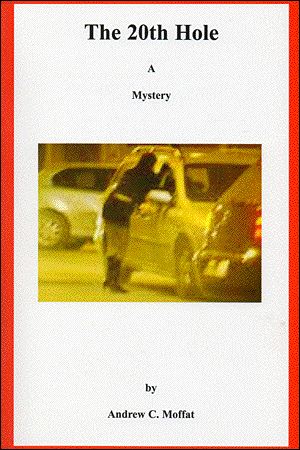 synopsis
For two decades prostitutes had gone missing from the City's streets and no one seemed to care.
Finally a young newspaper reporter responded to the appeal of one of the street-walkers and began to write articles questioning the obvious disinterest of the public, police and City authorities. A Sergeant of Detectives became interested and personally, against the wishes of his superiors, took up the case.
This is the story of the years taken to track down the serial killer; and of the fickle response of the public to the loss of women they socially detested.
excerpt
(Four boys had been looking for golf balls when one's leg broke through the rotting boards of an old well. He had just been pulled free by two golfers when the Course Marshall arrived.)
He had been on a parallel fairway and had seen the two golfers take off into the woods. When they had not reappeared within the 5-minute rule he came across to investigate their delay.
"What's going on gentlemen? I'm afraid you'll have to forget your ball and play on. We adhere closely to the 5-minute Rule for looking for lost balls."
"No lost ball Marshall, but we almost lost a boy" said the elder of the two men.
They had no trouble finding the site: the one remaining caddie had stayed at the site to see that no one approached the hole.
As the crew was arriving the caddie came running out of the woods — panting as though he had seen a ghost!
"Christ! I've never seen anything like it!"
At that point he began throwing up.
reviews
Reviews of this book will be posted here as they are available.
[Original book stack image © epitavi/Dollar Photo Club; Original feathered inkwell image © Stekloduv/Dollar Photo Club]